Product #3, #4 and #5
Unfortunately, we ran a bit behind schedule with Product 3, 4 and 5 due to unforeseen circumstances and very difficult third party services. I will explain in a moment but first, let me introduce each new product!
Product 3 – ChurchFind.org
One of our other products, eDisciples.com (not part of #50Products10Months) which was developed last year is slowly gaining momentum. It already has 1200 churches registered on the system and one of the sub-products we had in mind for this project was to create a "Find a church near me" website with a directory of churches. Enter, ChurchFind.org!
ChurchFind.org is a simple enough idea. It's literally a directory with a fancy map that can search markers near your location. We've decided to monetise it by adding "premium listings" and more ideas will follow should the site gain traction. We also imported the details of the 1200 churches we have on file (and manually inserted a few more ) in order to help them find new congregants in their areas.
Until the SEO kicks in, we will just have to wait and see what happens with this idea!
Product 4 & 5 – HTML Church Themes
It was decided quite early on that a few of our products would be HTML and/or WordPress themes. Because we were in the "church mind space" at the time, we decided that throwing out two church themes into the wild might be a great idea. On Themeforest, there weren't that many to choose from and to be quite honest, we thought we could do better. The sales for some of those themes looked promising as well. One had 914 sales at $18 per sale which totals $16.5k – a nice cash injection into the company should we be able to create a popular theme.
Things went sideways pretty quickly after each developer had spent a month (during quiet times) creating their individual themes. We created stunning documentation for each theme and ensured we followed all guidelines associated with submitting to Themeforest. Within 24 hours we were hard rejected. No explanation given. Unfortunately, this is how Themeforest operates. If something is wrong, they don't tell you what is wrong and they expect you to figure it out. Furthermore, they tell you that you cannot resubmit the same theme again unless substantial changes are made to the theme.
Here's the email we received back from them after submitting the first theme.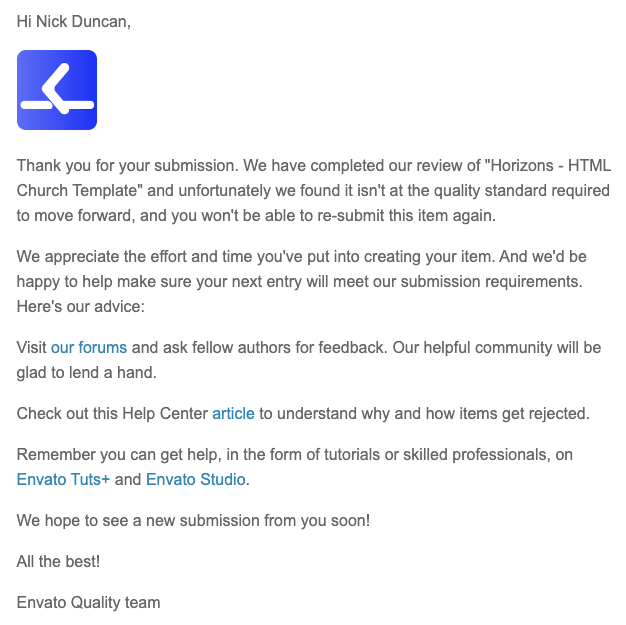 The links in that email didn't provide any insight at all. Essentially, we were back to square one with the themes. I decided to put out a forum post on their website asking for guidance. The response we got back was even more depressing.
Apparently our theme is "too simple". I thought it looked quite nice actually ¯\_(ツ)_/¯.
We decided to try to make substantial changes to the themes and get them fit for submission again. While we are doing that, we decided to sell them on our own store and just create a small marketing campaign targeting people looking for church templates. I'll let you know how that goes soon!
With product 3, 4 and 5 done and dusted, it's now time to focus on the next set of products for Month 2. I'm super excited about these!
Product 6 – A trust badge specifically designed for eCommerce stores. Get early access here.
Product 7 – An app that encrypts/decrypts sensitive files on your phone.
Product 8 – A wedding invitation theme
Product 9 – A wedding invitation theme
See you soon!