Month #1 Update
What an amazing start to the #50Products10Months campaign. Month #1 has been an absolute rollercoaster of a ride. We've seen our first product reach the number one spot on ProductHunt and experienced the sad news of a top employee resigning.
So far we've only launched one product but have another four products about to be launched in the next couple of days. I'll provide more information on those as they are launched.
GetChatApp
Once I launched GetChatApp I immediately went to Facebook to start creating ads targeting entrepreneurs and founders in Africa (super cheap CPC!). NOTHING happened. We got 100s of visitors but ZERO conversions. What the heck was going on? I'm pretty sure I developed a solid product and I'm even experiencing a lot of value from it on my other sites. What went wrong?
Over and above that, I decided to launch on Product Hunt. I've heard of people spending thousands of dollars and months preparing for their launch on PH. I literally spent five minutes submitting GetChatApp to PH last week Wednesday. It completely tanked. We got 11 upvotes – mostly from our own team members and some peeps on Twitter but that was it. I even put the PH badge on our site in the hopes of generating more upvotes. It didn't work. I accepted that the launch on PH was a failure but it was fun to try.
I started introspecting a bit on Friday and realised how I had been trying to do everything in my own strength. It dawned on me that no matter how hard I try at certain things if God doesn't agree with it, it will never be a success. I decided to pray about GetChatApp and left it at that. It was a very short and simply inner prayer of the heart. I closed that book and started thinking about the next project. After all, we have a lot to get through!
Come Saturday morning, my younger son asked me about how websites work. I decided to show him the new GetChatApp website and as I loaded the page I saw that we had 29 votes. I was a bit confused because the day before we only had 11. I clicked on the badge and was taken to the PH landing page for GCA. In the top right corner, it told me that we were the #3 product of the day! What just happened? I had a look at the front page and there we were – third on the list with 29 votes. I thought to myself that this must just be a fluke. Five minutes later we were second with 34 votes. Ten minutes later we were first with 43 votes. What was going on?!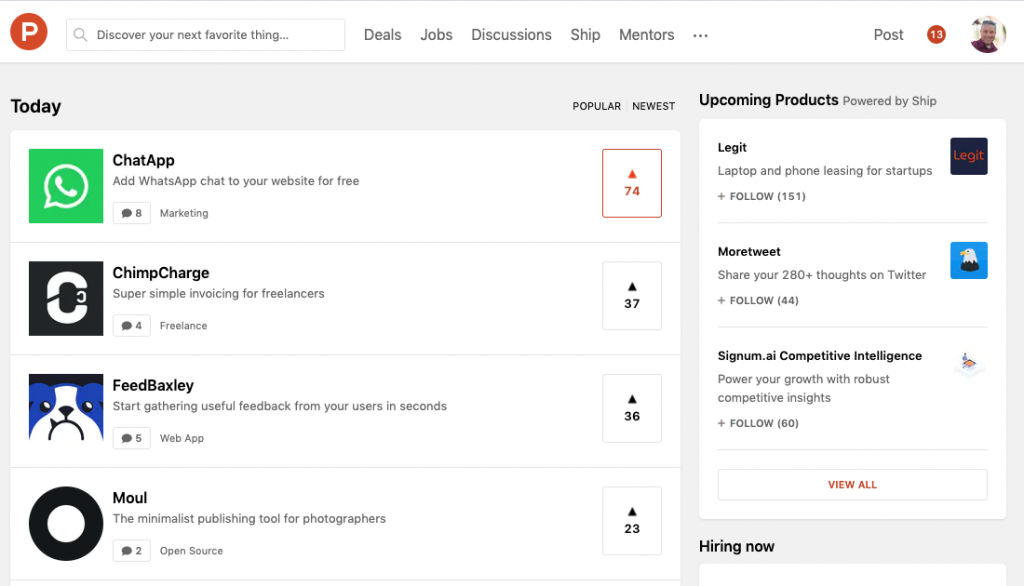 As it turns out, a top maker had decided to feature my product. They even went so far as to change my main product image to a more suitable image for PH. Because we landed up on the front page, we started generating interest from a variety of different entrepreneurs and makers. They were upvoting GCA at a rapid pace. By the end of the day, I had received over 40 WhatsApp messages from our website chat box (our actual product), some lovely comments on the PH landing page and over 350 upvotes for the day, securing the #1 spot and earning that coveted #1 Product of the Day badge which we now proudly display all over the place. To whoever the maker was that featured out product, THANK YOU! It's now the Monday following the Saturday launch on PH and we have 531 upvotes in total. What a ride!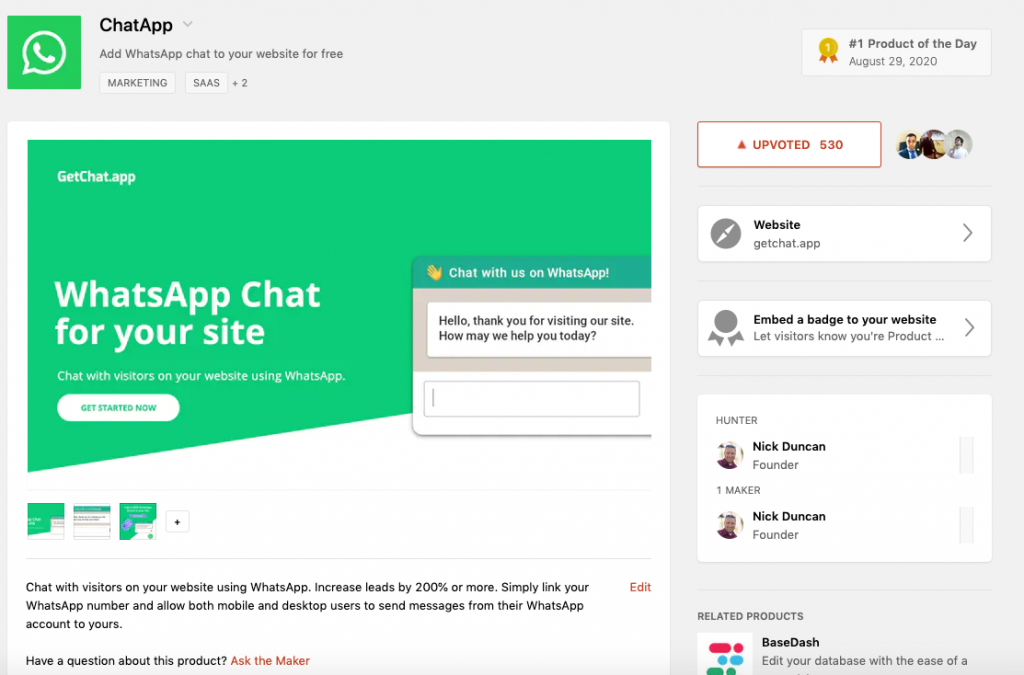 So what did this do for the product? Since being featured on PH, we generated over 200 installation code snippets (the code you use to install GCA on your website) and 62 people actually installed it on their site. We received 1 premium account signup ($2/mo) which means we have a conversion rate of 1.6% of free users. This means that if we generate 100 000 free users, and improve our offering which in turn improves our conversion rate, we could be looking at generating anywhere between $3.2k and $10k per month. Not bad for a simple product! The only thing now is to get the 100k users…
With all of this in mind, I decided to change the targeting options with the FB ads and started targeting people who have "Product Hunt" as an interest. This is my ideal target market. Anyone who is interested in Product Hunt is most likely a founder. I'll give you an update on how this pans out a little later in September.
Over and above just launching on PH and throwing some ads out there. I also created a WordPress plugin for GetChatApp. This is still pending approval but I have high hopes for this as a way to get even more users. The WordPress plugin is inherently easier to use than installing the code from our site as it requires zero programming experience. It adds the code automatically for you. I'll share more details with you as it happens.
Who threw that spanner?!
August was an amazing month… Right up until I received an email from one of my star employees at the end of the month. It was a resignation letter. What an absolute shock to the system that was. What happened? Too much stress? Burnout? What did I do wrong? This man is a pillar in the company and the thought of losing him was painful. I went for a walk with my wife just to process the news and figure out what the next steps were.
Generally, when someone has made their mind up to leave, there is very little you can do about it. I'm going to have to just process these feelings and try to move forward as best as I can. I'm still blessed enough to have an amazing right-hand man that I can trust and lean on, and visa versa. We will get through this! Our new interns couldn't have come at a better time, to be honest. We are bringing on three interns tomorrow and each one of them have amazing potential.
Four new products coming soon
I'll follow this article up with another post for month in the next few days where I feature the next 4 products. They are due to be released between today and Wednesday.